Hello,
I have been using Logitech mice for years, but lately, the buttons have been giving up the ghost too quickly, so I have been search around for a good robust wireless mouse. I looked at gaming mice (because gamers are quite hard on their mice) and while most gaming mice are corded, there are a few newer models that are wireless.
Long story short, I've settled on the Razer Ouroboros (OR-o-bore-os) ambidextrous mouse which can be used wireless or with a cord. The RF receiver is the charging cradle, and it has a single AA rechargeable cell. And this is the weakest piece - the battery life is ~12 hours of continuous heavy (gaming) use, and I will see how long it works out to when used for DataCAD. plugging the cord straight into the mouse lets you chage and keep working, and you can have another AA rechargeable battery ready to go, as well.
The Razer is adjustable in length and the angle of the rear surface can be customized, as well. The sides have 2 sets of different pieces: I use the "wings" which broaden the base and support your thumb and pinky. or you can use non-winged pieces that have rubber grips - these side pieces are held in place with magnets.
Here is my old and new mice side by each: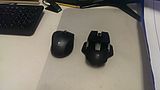 You save programing profiles (in the cloud). I have a left hand and a right hand profile to set it up for my regular use. I can switch hands to rest my right hand. Tracking speed is set at 2400dpi and full acceleration. The maximum 8200dpi is just stupid-quick, so you really have to drop it for use in DataCAD.
Best thing about the Razer Ouroboros: the scroll wheel does *not* tilt, and the detents are just about perfect to not allow the scrolling to change the zoom while you are snapping.