Hello:
A picture is worth a thousand words, right? Here's some pictures of various DataCAD desktops that I use on my dual 17" LCD monitors. The total resolution of both combined is 2560pixels x 1024pixels, and physically the image is 26 1/2" wide x 10 5/8" high. Click on the small images to get the full size image. I beg your pardon if the white background is too shocking!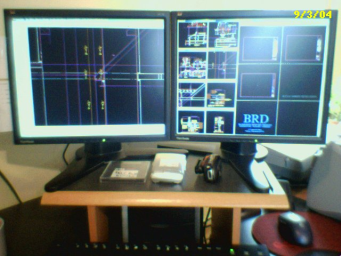 This is a very typical mode: the active drawing visible, with both the MultiWindows (which are graphic GTV's) and the Symbol Browser are open, and the SB is big enough to be useful! The
right
edge of the main menu is the dividing line between the two monitors, BTW, so the drawing covers as much of the righthand monitor as possible.
This image shows the Layer Manager covering the lefthand monitor -- you can hit Apply, and you see the changes on the drawing.
This image shows the new resizable Symbol Browser dialog.
This image shows how you can have two drawings tiled; one on each monitor, with the SB in the mirror position to the main menu. The light blue section on the righthand drawing is a hightlighted *self* XRef, BTW. Another more accurate name for this might be IRev for Internal Reference View.
[This one is half size.]
This image shows DataCAD with
IrfanView
(which is a free image browser & editor) so you can look at digital photos while drawing in DataCAD.
I hope this helps explain why I am so enthusiastic about dual monitors! I'm sure that others have some thoughts on this, too.
Here's what the pair of ViewSonic VP171b's look like at my work station. They have approximately 5/8" side and top bezels, while the bottom is about 7/8". (I only have the black background so the images will show up on my ultra-low rez PDA cam.) They now sell for about $345 at
NewEgg
which is about
$200
less than I paid just a year or so ago...
[Edit] For about $50 less than I paid for my 17" models, you can now buy the 19"
ViewSonic VP-191b
for less than $500, which has the same resolution as mine, but I'm sure the extra 2" won't be a bad thing!
[Edit: Since these image links are apparently broken, I'm reposting some similar images: http://forum.datacad.com/viewtopic.php?p=36318&highlight=#36318]
Last edited by
Neil Blanchard
on Thu Jan 12, 2017 4:45 pm, edited 11 times in total.